Family camp offers your family an opportunity to vacation at Haines Lake while enjoying great fun, good food and services, excellent spiritual teaching and fantastic fellowship. A chance for your whole family to grow in your walk with Jesus Christ.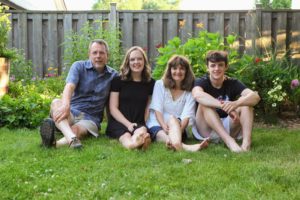 Directors: John and Florence Budge
John and Florence have been connected with camps for many years, including as campers, counsellors, and in various leadership roles. Florence (nee Newton) has been part of the Koinonia family since she was a child and many of her family members have been active members of this wonderful community over the years. Both John and Florence love the rich fellowship of Koinonia, the teaching and the beautiful surroundings. Florence began her journey with Christ in this special place. The Budges have two wonderful teenage children: Sarah (18) and Joshua (16). Sarah plans on going into nursing in the fall and Joshua is focused on school, basketball and fishing. Both John and Florence are teachers with the public board in London, Ontario.
Speaker:
The Rev. Canon Dr. Walter B. (Duke) Vipperman II
Duke is a long time friend of Camp Koinonia, for a decade (1990's) serving either as camper, worship leader, speaker or family camp director. Once Incumbent of the Church of the Resurrection, Toronto, and before that Associate at Little Trinity, he retired October 30, 2016 but remains an active writer, missional coach, speaker and learner. Sound biblical teaching is a hallmark of his ministry. With his wife Deborah, both companions of the neo-monastic Northumbria Community / Toronto Carrying Place, Duke will also introduce some of their creative resources.  For fun he plays guitars, sitar, lute, dulcimer, balalaika, pandori and other instruments.
Typical Schedule for a day at Family Camp
7:00 a.m.        Polar Bear Swim
7:30 a.m.        Wake up Bell
8:00 a.m.        Breakfast in the Lodge and Family Devotions
9:00 a.m.        Women's Prayer Cabin /  Staff Chapel and Meeting
9:30 a.m.        Men's Prayer Cabin
10:00 a.m.      Adults Program in the Lodge / Children's Program in the Craft Lodge
11:30 a.m.      Swimming Lessons
12:30 p.m.      Lunch
1:30 p.m.        Tuck Shop
2:30 p.m.        Free time / Free Swim /Activity Time
4:00 p.m.        Tea Time
4:30 p.m.        Swimming Lessons
5:30 p.m.        Dinner
7:30 p.m.        Family Program and Snack
9:00 p.m.        Adult Program in the Lodge / Babysitting Rounds / Childcare in cabins.
11:00 p.m.      Lights Out